Bigg Boss Malayalam 2 is entering its seventh week. The chaos, drama, fun, and fights are taking new twists and turns in Bigg Boss Malayalam 2 house. Week 5 was announced as 'No Elimination' week while Pradeep Chandran got evicted in week 6. Due to Reshma's eye infection, she is getting a break from nominations this week. Last week, Rajith was at the top of the voting poll and is again nominated for eliminations this week. This week the two probable contestants are Fukru and Rajith. This is the first time when Fukru is nominated.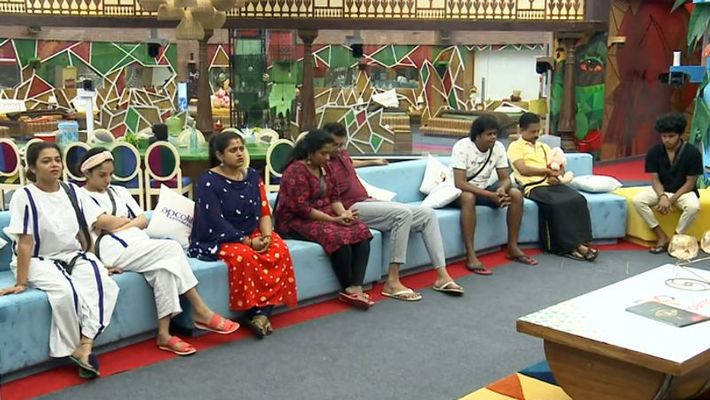 Elimination Nominations for Week 7
Dr. Rajith Kumar
Veena Nair
Jazla
Manju Sunichan
Fukru
Arya
Nomination Process for Week 7
This time each contestant has to nominate the other two contestants and as a result of this six contestants were eliminated. This brings up the probability of double elimination. This is how the contestants were nominated.
RJ Suraj- Rajith Kumar, Jasla Madassery
Jasla Madassery- Rajith Kumar, Manju Peter
Rajith Kumar- Frukru, Manju Peter
Manju Peter- Rajith Kumar, Veena Nair
Arya- Jasla Madassery, Rajith Kumar
Fukru- Rajith Kumar, Veena Nair
Shaji- Rajith Kumar, Veena Nair
After the elimination process was complete Bigg Boss asked Arya if she wanted to use her 'nomination free card' and Arya said 'No'. The highlight of this week is that everyone said Rajith Kumar's name and also this is the first time when Fukru is in elimination.
Rajith Kumar is leading the voting poll- Manju in Danger Zone
As it was expected, Vote polls are led by Rajith Kumar and Fukru. Though it is surprising to see Fukru and Arya in elimination. Everyone is fighting hard to survive in the competition. The tasks are getting tougher day by day.
The audience is Tired of Manju's Emotional Drama?
The audience was disappointed when Manju did not get eliminated last week. Rajith and Suraj were safe while the competition was between Pradeep and Manju. It was quite surprising when Pradeep got evicted. The audience is tired of Manju's emotional drama. Manju has a higher chance of elimination this week.
Rajith's and Fukru's fight has an Impact on Voting Process?
Though Fukru is not nominated he is the most followed contestant after Rajith Kumar. We witnessed an unexpected huge fight between Fukru and Rajith. It would be interesting to see if Veena Nair bare brunt the fight.